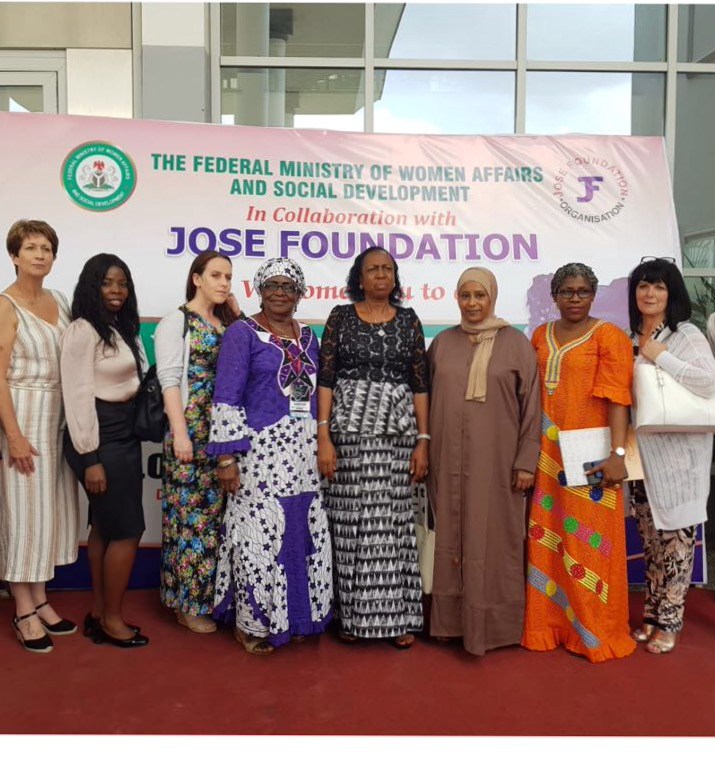 What has been tagged the 'First Workshop on the Elimination of Child Sexual Exploitation (CSE) in Nigeria' has been held in Abuja, the nation's capital with a conscious call for a concretive actions by all towards ending the scourge of child sexual abuse.
The 4-day training programme was on the staple of the Federal Ministry Of Women Affairs and Social Development in collaboration with Nigeria's foremost campaigner against child sexual abuse, Jose Foundation.
In her keynote address, the minister of Women Affairs and Social Development, Senator Aisha Alhassan, said beyond signing and domesticating both international legal instruments in the Child's Rights Act (RA) 2003 and the reviewed Trafficking in Persons (Prohibition) Law Enforcement and Administration Act (TPLEA, 2003/2005), Nigeria has taken more stringent steps by reinforcing their provisions in Violence Against Persons Prohibition Act, 2005 and the apex Laws of the Federation of Nigeria (LFN, 1999) as amended; Sections 4; 11; 21 and 42 respectively; to amplify penalties and deterrence for potential perpetrators of sexual exploitation and related offences, especially against children.
"To help the prosecuting agencies in their work; awareness raising especially through training of criminal and juvenile justice officers among other personnel as appropriate, on the Child Sexual Exploitation, with a view to enhancing their ability to prevent CSE by better interpretation of the apex and all other appellate laws criminalizing CSE; as they affect detection, investigation and prosecution of offenders, remain before us all, an option that can no longer be deferred," she said.
She stated that her attention is shifted with deepest emotions to the plight of children in the North East part of the country ravaged by insurgency. She said children in the region account for 65 per cent of estimated two million displaced persons due to the crisis.
She lamented that children as soft and vulnerable targets, some have been killed, maimed or abducted from their homes or schools and humanitarian services in IDP camps, over stretched; and women and children especially the girl child become exposed to all kinds of hazards including CSE.
In his welcome address, the president of Jose Foundation and convener of the workshop, Prince (Dr) Martins Abhulimhen, thanked the ministry for the collaborative effort at making the workshop a reality in Nigeria.
He said the state of affairs of the Nigerian Child is truly troubling. "As Nigerians, we should all agree that sexual abuse of Children is completely unacceptable, we must do everything within our power to eradicate this plague.
"The Experts are here to help answer all our questions, identify ways to protect all Children including abused and molested ones. There should be no hiding place for Child Sexual Predators, complete zero tolerance for anyone taking advantage of Vulnerable Women and Children."
He noted that the mission of the group as a humanitarian organisation is anchored on a needs based and result oriented philanthropic strategy that aims to build the capacities and strengthen the resilience of the most vulnerable groups, children and women in particular.
"It supports innovative, impactful and lasting initiatives in low-income countries that promote women's economic and social development, that provide access to basic services, that engage with communities to encourage the responsible management of natural resources and that deliver humanitarian assistance to children and their families when natural disasters strike.
"In this Workshop, we are going to explore the various Safety Nets for Children, Seek Collaborations, Assistance and Donations from all concerned citizens and Corporations for Resources to build Counselling Centres in Towns and Cities across Nigeria.
"Jose Foundation will provide experts to train our entire law enforcement and child carers the needed child safekeeping training to protect our children. Certification will be giving to institutions and individuals that go through our training programmes.
"For this movement, keeping Children safe is our primary objective. We are going to call on every Nigerian to rally around this Cause, remind them that Children are the Foundation and Future of this great Nation. The culture of silence will no longer be acceptable for the sake of the future of the millions of Children and the vulnerable in our land."
In a remark, Wife of Kaduna State governor, Mrs Asia Mohammed el-Rufai, said the problem of CSE persist in Nigeria because the women who are supposed to speak out are repressed by the society.
According to her, it is the keeping quiet that does the damage to the society. She admitted that CSE is a huge problem even in the north where boys are being exploited by their guardians and caregivers in the name of giving them knowledge.
"One step to finding a solution to the problem is accepting that CSE is with us. The culture of silence is aggravating the problem."
Mrs el-Rufai who is an expert in Sharia Law and a Forensic Psychologist, said the Almajiri boys and the Codeine abuse in the north is one exploitation those in authority must not ignore.
She also lamented the growing trend of early marriage, saying it's a form of exploitation that must be discouraged. She commended Jose Foundation for organising the workshop and urges for more of such programme organised in all the states of the federation.
In her expert presentation, United Kingdom based expert on child sexual exploitation, Jayne Senior and Councillor in Rotterdam, said child predators are very skilled into getting into position of the child and they often have something the child wants.
She called for extra vigilance from parents, caregivers and other experts in knowing when something is wrong in person's closeness to a child.
The director, Keeping Children Safe, United Kingdom, Sarah Blakemore and Lisa Thompson of the National Centre on Sexual Exploitation, Washington, USA in their lectures said organisations have a duty to care for children.
That child predators are made and not born in the society, lamented that like tobacco industry, the pornographic industry possess a serious threat to public health.
Thompson identified that more Nigerians show more interest in pornography than music and video films.
They all call for concerted effort by all relevant bodies towards changing the tides.