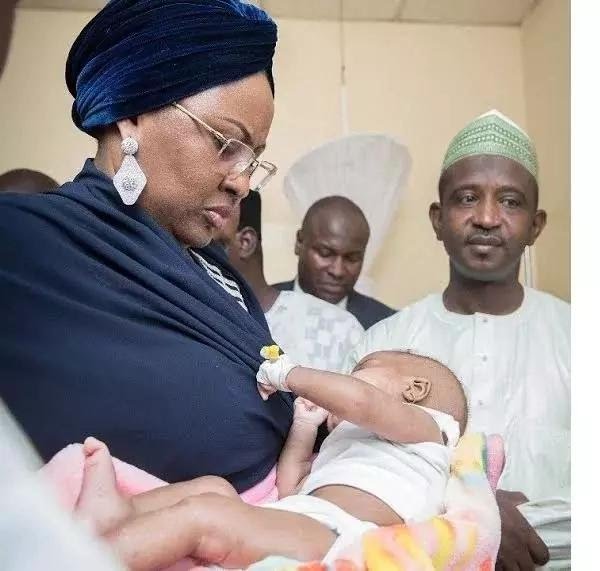 Experts have identified certain abnormalities in brain development which may start few minutes after birth that lead to abnormal sexual behaviours, including rape, incest and child sexual abuse. AGBO-PAUL AUGUSTINE reports
As the Wife of the President, Mrs Aisha Buhari held the tender six-month-old baby, Khadijah Bashir, (now eight-month-old) allegedly raped by her mother's friend, a 30-year-old man in early May in the city of Kano, many could imagine the grief that shadowed the First Lady and the parents of Baby Khadijah .
To add to the pains of a broken heart, the rape was allegedly carried out with the assistance of the friend of the infant's mother, whom report had it that she held the little baby's leg apart as she was being defiled.
The shocking incident, by no means drew tears from the eyes of millions of Nigerians who followed the story. Many wondered what could have led the two adults to the length of violating a girl that has only seen six months of life.
Kano no less, has become notorious for minors' sex abuse. With a long history of violence against children, the recent incident in the commercial city left authorities more than worried in finding a quick solution.
In the first six months of 2008, police in Kano, recorded 54 cases of child rape and made 60 related arrests. In a good number of the cases, the victims were gang-raped. Nine years later, the number keeps swelling leaving the society with a gaped face.
Kano is not alone in the dangerous sexual assault on children and babies. Other cases of child sexual abuses reported in other states of the federation are mind boggling too. It leaves one with the impression of a mentality that is sweeping greater disorder into Nigeria.
So far the Kano State government has said it was interested in getting justice for the Baby Khadijah and Nigerians are indeed waiting to see that justice is really served.
Recently an Ado-Ekiti High Court sentenced David Oluwatoba, 57, to 14 years imprisonment for having sex with his four-year-old step daughter.
The trial judge, Toyin Abodunde, found the accused guilty, and said that the prosecution had proven the case of rape beyond a reasonable doubt based on the weight of evidence before the court.
The judge held that the prison term started counting from the day of conviction.
Mr. Oluwatoba was said to have committed the crime on August 12, 2013 at Odo Usi Street, Awo Road, Igede-Ekiti in Irepodun/Ifelodun local government Area.
Also an Upper Area Court in Mararaba, Nasarawa State, only recently, remanded a 15-year-old boy in prison custody for an alleged rape of three children. The accused, lives in Rafin Kwara Masaka.
Also a magistrate court in Yobe State sentenced a 37-year-old farmer, Khaki Nujiya, to 10 years in prison for raping a 14-year-old girl. The rapist was not given an option of fine.
The prosecuting counsel, Fatima Mohammed, told the court that the convict who lives in Koromari Village of Bursari local government area of Yobe State, was reported at the police station on September 9, 2016 for committing the crime.
She said the complainant, Mohammed Arabia, of the same village, told the police at Garin Alkali division that the accused lured his daughter while she set out on an errand and forced himself on her.
The father said the rapist, during the forceful intercourse, inflicted injury on the girl's private part.
Reported also is that an allegedly incestuous father, 56-year-old Sunday Adimagwu, and his son, Kenneth, 21, were arraigned before an Ikeja Chief Magistrates' Court charged with raping a 12-year-old girl.
The father is being tried for raping his own daughter, while the son was arraigned for allegedly raping the same girl, who is his step-sister.
All offenders are said to reside at 4, Ilogbo Street, Ajangbadi, Okokomaiko, a suburb of Lagos, on the Lagos-Badagry Expressway.
The police prosecutor, Clifford Ogu, told the court that the offences were committed between September 2016 and April 2017 at the apartment of the accused.
Mr. Ogu, an inspector, said the 12-year-old girl had been staying with her father and the step-mother following a separation between her mother and the father.
Our correspondent findings on child sexual exploitations (CSE) observed that some adults may have been involved in the act of abuse of minors without realising it.
Speaking to her group of friends recently, an Abuja female socialite was making fun of a four-year-old boy, a son of a relation who followed her to spend the weekend.
"I never knew that a small boy's manhood could erect so strong, I was surprised to see it", she poked a joke. Her club of friends could only make fun of her tale but one of the ladies who spoke to our correspondent was not amused, she expressed fears for the four-year-old boy, that child sexual exploitation starts in that manner.
The rising cases of sex abuse of minors are mostly traced to close relations, family members who either coerced or lured their victims into sex.
Child rape breeding a rigid generation-Experts
Reacting to the rising wave of child sexual exploitation in the country, a sociologist and associate professor in the department of Sociology, Nasarawa State University, Keffi, Theophilus Lagi, lamented that rape has taken a dangerous dimension in Nigeria.
He said sex abuse has been attached to religious and cultural beliefs and "its truly a worrisome situation."
He said imams and pastors now lure kids with sweats, drugs and alcohol. He also lamented that parents try to hide such happenings by shouting down kids when they try to complain, hence making the kids victims.
Worst, Dr Lagi said that, most ladies in Nigeria are not even aware that they have been sexually molested until later in their life. The result according to Dr Lagi is "people groomed to be aggressive to the society and becomes frigid".
Lagi advocated for strong public enlightenment from kindergarten to secondary schools levels. "We must also fight social stigmatisation to drive away the psychological effect or the child may grow up and may become aggressive towards the society," he said.
Speaking with our correspondent, president and chief executive officer, At Peace Centre, Abuja, Dr Casmia Nnameka, was of the view that child rape may be a social thing but largely, a congenital deformation which has to do with brain cell development as a result of malfunctioning or accident at tender age.
The clinical psychologist said child rapist or pedophilia as the case may be, see nothing wrong in their actions. He added such individual's problems may have been formed soon after birth. The way and manner a new born baby is handled especially by unprofessional birth attendants have a great consequences on the brain formation of the child.
He said at birth, due to careless handling, a child might fall off table or the head hitting a relatively hard surface. At that point, birth attendants may not see it as a serious issue but often end up affecting the brain cell.
He revealed that 75 per cent of pedophiles are bisexual and "when they have the opportunity they strike."
According to Dr Nnemeka, these crop of persons are children trapped in adults' bodies.
He advised parents to be vigilant of their kids' environment. "If you don't trust a person, don't allow your kids near him. Don't wear your kid's sensitive clothing, be free with your children, teach them and never shout them down whenever they expressed fear especially from outside," he said.
The clinical psychologist agreed with Dr Lagi that a good number of pedophiles may have been likely molested when they were young.
Speaking on the immediate and long term health implications of child sexual exploitation, a senior registrar in the department of Obstetrics and Gynaecology, University of Abuja Teaching Hospital, Gwagwalada, Dr Aye Abalaka, said under aged persons' rape may lead to bleeding from the genital parts and if not given immediate medical attention may lead to death.
He told our correspondent that he was worried by the attitude of parents who tend to hide it from the public, leaving victims to suffer from infections.
He stated that for girls, pregnancy can occur leading to dropping out of school. Worst he said, the child risks being infected with HIV, hepatitis and other infectious diseases.
Child rape according to Dr Abalaka, may damage the reproductive life and likely lead to infertility.
People have gone rascal with phases of sex
Head of department of Psychology, Benue State University, Markurdi, Professor Josiah Shindu, said Nigerians have gone rascal with the phases of sex.
According to the psychologist, the phases of sex are: man and woman having appetite for sex, arousal, orgasm and the fourth, resolution. "Each stage has its concomitant effect on people but Nigerians tends to jump the first phase which is very important."
The avoidance of the first phase, according to him, leads many to lack self-control and has contributed to the high cases of rape in the country. He said adults must learn to control their appetite for sex.
Just like corruption, Prof Shindu said rape is like taking what is "not yours" and has to be fought like fighting corruption.
He also lamented that children are staying too long with parents and it is dangerous. He warned that when planning does not capture young graduates in terms of jobs and opportunities, marriage becomes difficult and with high libido among young people, rape is likely and children are at risk.
1958 Colonial Mental Health Act outdated, home conspiracy frustrate justice.
The country is said to rely on a 1958 Nigerian Mental Health Lunacy Act for the treatment of mental illness which experts say is outdated and needed to be reviewed.
Experts in mental health issues view mental illness as an important part of human narration. Mental illness has been perceived, interpreted, and treated differently from various social and cultural groups.
A psychiatrist and consultant at the Federal Medical Centre, Makurdi, Dr Michael Agbo Amedu, lamented that psychiatric is receiving low attention by the National Assembly. He wonders why Nigeria will still be relying on a Colonial Lunatic Health Act enacted in 1958 right before the independence of the country.
To him, the outdated law is not helping in the treatment of mental cases in Nigeria. He said disinhibition as seen in the country can be traced to drugs and alcohol which tends to take control of people.
When people cannot control themselves, they tend to do bizarre things including child rape, according to Dr Amedu.
Although, he said sex disorders and child sexual exploitation is a complex phenomenon, a mixture of culture, religion and social issues has not helped in dealing with the matter.
Looking at the matter from a legal perspective, an Abuja-based lawyer, Darlington Ozurumba, said the law enforcement agencies have shown that they are ready to deal with the matter but the conspiracy of victims' parents is not helping justice.
He said the Child Rights Act (2003) has been able to protect the child to a level in the areas where the law has been domesticated.
He added that the police and other law enforcement agencies have set up specific departments in charge of children matters but "people are not coming out to report child molestations." Ozurumba advocated for stricter punishment for offenders of child rape.
To achieve that, he said legislatures should consider reviewing the current laws protecting the rights of children.
Over 25 million child pornography viewed annually
Child pornography on the Internet has shown that over 25 million images are viewed annually. Experts have found that a "layering of harms" can occur when images or video of child sexual abuse have been distributed online.
Speaking exclusively to our correspondent, programme coordinator, Action Against Sexual Abuse Initiative (ASSAI), Mrs Juliet Obiora, said the situation is being fuelled by theculture of silence in Nigeria.
Adding that the contact sexual abuse constitutes the first layer of harm, and the production of an image or video—which exacerbates the negative effects of the abuse—represents a separate, second layer of harm. Each subsequent viewing or distribution of that material serves to re-victimize and thus further exacerbate the psychological damage to whoever is watching. This will lead to ever-increasing levels of violence and a continuously increasing generation of child molesters.
She noted that a child's sexual abuser can be either its mother or its father. "Intrafamilial abuse is when the abuse is done by a member of the family. That being said, the trigger usually happens before the adult becomes a parent, in fact it occurs when they themselves are children," she said.
According Mrs Obiora, "studies have shown child sexual abuse is inter-generational. Most victims of sexual abuse always turn out to be a perpetrator, themselves. It is not uncommon for a sexually abused child to sexually abuse another child.
"They re-enact the trauma that was inflicted on them to others usually younger and so the cycle continues. In cases where the abuse is not detected and stopped, such a child grows on to be an adult that cannot help such sexual behaviour."
In extreme cases she said, "they abuse their own children because they have easier access to their child or because they themselves were abused by a parent or family member.
"In our Nigeria, certain ritualistic acts can also advise a father to sexually abuse his daughter. However, where there is intra-familial abuse it is always an indication of a deeper prepressed dissociative disorder".
On the way out, she said: "We need to turn up the volume on these issues especially from the grassroots, raising awareness of the unacceptability of child sexual abuse, and promoting the notion that stopping child sexual abuse is everyone's responsibility.
"Most people are not informed on the child's rights and on the need to report perpetrators. The wide dissemination of accurate information to the public, especially to policymakers, will help break the silence and taboo that surrounds child sexual abuse, and may facilitate the formulation of effective solutions to the problem.
"We need accountability, not just accountability but one that comes duly. Perpetrators should be brought to books and this should be done timely."
President, Jose Foundation, Prince Martins Abhulimhen, told our correspondent that, Nigeria has no choice than to step up action against child sex abuse. He said his foundation aimed to train legislators, minister, law enforcement agents, IDPs camp managers, parents, and other key stakeholders in the development of children on how to curb the menace in Nigeria.
He said his organisation is working in collaboration with the federal ministry of Women Affairs and Social Development to create further awareness.