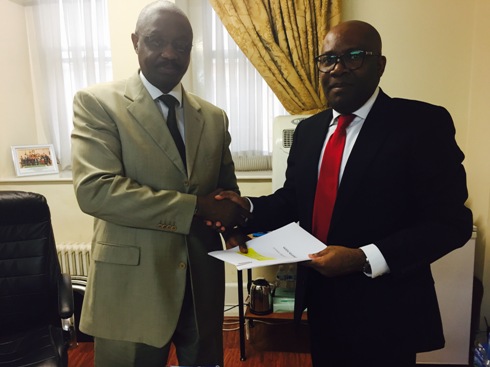 Ahead of a planned workshop on sex abuse of minors and the vulnerable in the Internally Displaced Persons (IDPs) camp in Nigeria, a United Kingdom based nongovernmental organisation, Jose Foundation has submitted a detail programme of the event to the Nigeria High Commission in London.
Submitting the plans to the minister for Education and Welfare at the High Commission, Mr Emmanuel Namah by the President of Jose Foundation, Prince Martins Abhulimhen said the programme was specially designed to tackle Child Sexual Exploitation (CSE), rape and abuse of children and vulnerable women in IDPs camps and Nigeria.
In a statement to LEADERSHIP Weekend through its representative in Abuja, the foundation stated that the menace should not be allowed to form part of the way of life in Nigeria, where the weak and vulnerable are frequently abused by those that are expected to protect them.
"Our stance at Jose Foundation is that culture, religion and poverty should never be a reason to abuse children. So we must continue to campaign for this movement to get reparative justice for all abused children and vulnerable women in Nigeria", Abhulimhen said.
He further stated that Jose Foundation has taken the matter of Nigeria's IDPs and abuse of minors and the vulnerable to the floor of the UK's Parliament in London pressing for international action in support for Nigeria and the fight against terrorism.
It stated that a 7-team of experts will be led by United Kingdom's most famous child right activist, Mrs Jayne Senior who is also a recipient of Member of British Empire (MBE).
Abhulimhen added that the UK team have been doing series of research work on how to complete the five days programme both in Abuja and in the Northeast.
The minister of Education and Welfare, Mr Namah while receiving the action plan promised to deliver it to the parent ministry of Foreign Affairs with copies to the Child Welfare unit of the ministry of Women Affairs.
Other ministries to be put on notice on the programmes includes the ministries of Education, Health, Justice, Interior and the Nigeria Police Force.
The Foundation stated that it will used the occasion to launch a sensitisation book on Child Sexual Exploitation to be used in IDP camps, schools and other social places to further educate Nigerians on the scourge and how to deal with it.